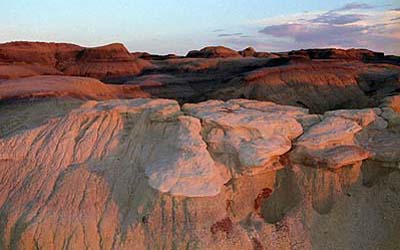 ---
The Lady

---
She sits by the window, way in the back of the bus, almost by herself. Sometimes her leg hurts her so she stays sitting there and when the others get off to see things, she draws what she sees through the window.

She draws with thin lines on small pieces of paper, just parts of things, pieces of what she sees.

I am looking out my window as the bus moves on and at the things I see going by, mostly the sandstone shapes, big ones in the distance, buttes, mesas, all the colors...red...white...black, and the grey-green bunches of sage that live around them. I have a map on my lap. I've always travelled like that, looking for and seeing the names of things and places that pass by...and that's good because the lady that does the sketches asks me from time to time if what she is drawing has a name.
---

Continue to read ...she is a Damask rose
or
return to Poetry